How Brain-Based Education is used in the FasTracKids Programs
The uniqueness of children's minds creates a special challenge for FasTracKids instructors. Brain changes are still noticeable 48 hours after stimulation to the brain occurs. Many of these changes are significant to and predictive of the child's future learning. In studying the brain, we have learned that the areas developed depend on the type of stimulation received.
FasTracKids students are exposed to complex activities to exercise and form brain connections. These activities must be presented in a fun, challenging way to insure that the children are engaged. They are further enhanced when they are accompanied by continuous feedback from instructors and peers.
FasTracKids utilizes Educational Zigzagging methods that promote repetition without repeating the same piece of information in the same way. The content of the FasTracKids program is combined with the unique delivery of the lesson to form the key ingredients for growing young minds. The subject matter is continually reinforced through new activities using different modalities throughout the lesson to strengthen the children's neural connections, without the typical loss of interest.
Educational Zigzagging refers to the learning of a concept by reinforcement of the subject matter through the use of many different exposures and applications. In a FasTracKids lesson, the concept to be learned is the center focus and is presented on the FasTrack Learning Station®. After each exposure to the concepts, activities are planned to strengthen the learning of the concepts. This includes learning through hand-on projects, experiments, role-plays and videotaping. The return after each activity to concepts presented by the lesson results in a zigzagging effect.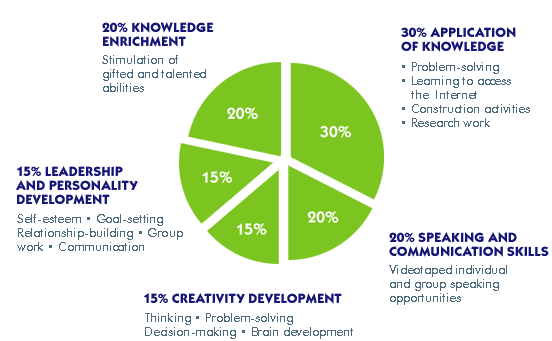 FasTrack Learning Approach
FasTracKids® is committed to encouraging every child to maximize his or her potential. FasTracKids classes are focused on helping children excel in creativity, communication, confidence, critical thinking and collaboration. Our proprietary Educational Zig-zagging℠ method allows children to gather information through exposure to visual, auditory and kinesthetic learning, meeting the needs of various learning styles. This method allows FasTracKids to accommodate many different learning styles, while identifying the development of different early learning skills. FasTracKids incorporates these elements in each structured lesson, providing opportunities for children to experience growth in each subject area while having a great time.
The following diagram shows what percentage of each lesson the FasTracKids® signature program devotes to each early learning skill.